Home
>
Blog
> Rock N' Roll: Here's Where The Name Came From
---
Rock N' Roll: Here's Where The Name Came From
Word Wizard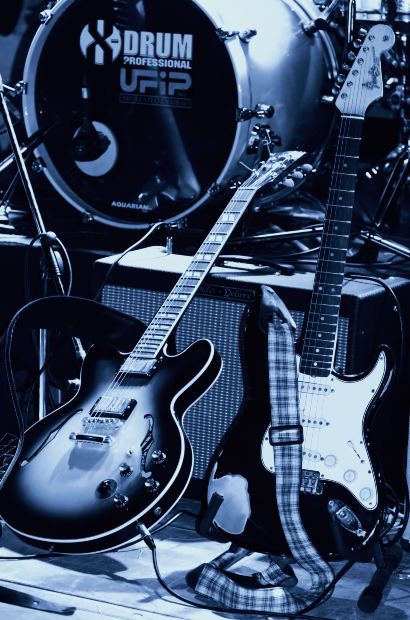 In the beginning, "rock n roll" was used to describe the movement of ships at sea, but with respect to music it really described the kinds of movements you would see from a gospel choir singing and experiencing a spiritual rapture.
It is the case that this phrase developed at different times in history within a different context.
A prime example of this is found on a 1904 phonograph recording by the Haydn Quartet that contained the words "We've been rockin' an' rolling in your arms/ In the arms of Moses".
Later, the words "rock" and "roll" began to take on more of a sexual meaning in music (which had been around for quite some time as seen in the phrase "a roll in the hay").
Throughout the 20's, 30's and 40's it popped up in many recordings and referred to either the motion of the dance or was sexual in nature. It enjoyed more widespread use in the 40's when in 1942 the term "rock and roll" was used by Maurie Orodenker to describe certain albums in his reviews in a Billboard magazine column.
Perhaps better known for the popularization of the phrase is Ohio disc jockey Alan Freed who used the phrase when playing and promoting this genre of music on his radio show in 1951.
The origin of the name 'Rock n Roll'
Finding the origin of rock n roll as a term is a 5 decades long journey through the music mad masses, musicians, marketing men and DJs in America.
With musicologists still arguing over which was the first rock n roll song, finding the origin of the term rock n roll can be just as challenging.
Most people agree the rock n roll origin story comes from an attempt to describe what the music made people want to do with their bodies when they heard it blasting through the speakers at a live show or on the radio.
A maritime, religious and sexual metaphor
As least as early as the 17th century, "rocking and rolling" had been a metaphor seamen used to describe a ship's motion.
The term 'rocking and rolling' was also used to describe the frenzied feelings and actions of the people caught up in the spirit at African American religious services.
The phrase also described the type of wild dance moves this raucous new type of music inspired. Moves drenched in sexual suggestiveness and innuendo.
The phase began to be used in songs as early as 1922 in "My Man Rocks Me (With One Steady Roll)", a Trixie Smith blues ballad.
The name came from the masses
The rock n roll origin story begins with the masses of people who made, danced to and enjoyed this exciting, eclectic, electric, new musical genre.
Spontaneous shouts of 'Rock n Roll, baby' were heard at parties long before the music was christened and blessed with the name.
The early 20th century was a unique time in America.
Young seamen and sailors celebrated their safe return from World War I with wide-eyed teens dancing to music that was a mixture of rhythm and blues, rockabilly, country music and a little bit of jazz that made people want to rock and roll.
This new music had no name.
Rocking and rolling was what it made your body feel like doing.
Rocking and rolling was a popular double entendre that peppered the conversation of the young and began popping up in rhythm and blues, country and other types of song lyrics in the 1920s, 30s and 40s.
It was a feeling and a type of movement inspired by the music.
Many contributors
The phrase 'rock n roll' had been used for decades before it came to describe a musical genre.
It was used in 'Johnny Bowker', a popular sea shanty that went "Oh do, my Johnny Bowker/ Come rock and roll me over". The term rock and roll describes the side to side and forwards and backwards movement of a boat or is a euphemism for lovemaking.
The theatrical group Moore's Troubadours performed a comic song called "Rock and Roll Me" way back in 1886. But the growing use of the term 'Rock and Roll' in the 1950s was different.
It described a type of music that was gaining popularity among young people of all races.
Quintessential American music
Using the term 'rock and roll' to define this new musical style began to pick up steam in the 1950s.
However, the masses were already familiar with the phrase. It was used by seamen and in several movies in the 1930s.
Songs like the Boswell Sisters pop hit 'Rock and Roll', Henry 'Red' Allen's "Get Rhythm in Your Feet and Music in Your Soul", Sister Rosetta Tharpe's gospel song 'Rock Me' and by artists like Benny Goodman, Chick Webb, Ella Fitzgerald and Buddy Jones, the Western swing musician, all had the term rock and roll in them.
The music reviewers chime in
The Oxford English Dictionary says in July, 1938, Metronome magazine among the first to describe a musical style as 'rock'.
The next year, a review in The Musician said the Andrews Sisters and Bing Crosby 'rock and roll with unleashed enthusiasm'.
Orodemker's description
Maurie Orodemker, a Billboard journalist and columnist in the early 1940s also began using the phrase 'rock and roll' in record reviews.
He said Sister Rosetta Tharpe's vocals were 'rock and roll spiritual singing' and later described 'It's Sand, Man!' by Count Basie as displaying 'rock and roll capacities'. Orodenker described Erskine Hawkins' 1945 version of 'Caldonia' and Joe Liggins 1946 version of 'Sugar Lump' as being 'right rhythmic rock and roll music'.
Many songs named 'Rock and Roll'
In 1930, Robinson's Knights of Rest released "Rocking and Rolling". Both Paul Bascomb and Wild Bill Moore recorded songs titled 'Rock and Roll' in the 1940s. By 1949 when Erline Harris recorded 'Rock and Rolls Blues', she had a new nickname.
It was Erline 'Rock and Roll' Harris. This was a key phase in the rock n roll origin story.
The rock and roll session
The masses long enjoyed 'rocking and rolling' to this exciting new brand of music and the phrase had appeared in many blues, swing and gospel recordings since the early 1920s.
A Cleveland, Ohio disc jockey named Alan Freed then played a major role in popularizing the name rock and roll and promoting the music.
In the early 1950s he had a radio show on WJW (850 AM)called 'The Rock and Roll Session' where he played an eclectic mix of R&B, blues, gospel, boogie woogie, rockabilly and Country and Western music.
With the support of the show's sponsor, record store owner Leo Mintz, the popularity of the show and the name rock and roll spread quickly from its black and poor white audience to middle-class white teens in America's post-war communities who were looking for excitement and social freedoms.
The music, wild dancing and the term 'rock and roll' struck a chord with them and it exploded in popularity. Apocopation led to the 'and' being replaced by 'n'.
The origin of 'Rock n Roll'
Steve Propes and Jim Dawson in their book What Was the First Rock 'n' Roll Record?, credit Alan Freed with using his groundbreaking radio show to popularize the term rock 'n' roll all over the United States.
---